Title: Moonlight & Mistletoe
Year of Release: 2008
Available On: Hallmark Channel app, 12/2017
Rating: 3 out of 5 Jingle Bells
Holly (Candace Cameron Bure) grew up in hyper-Christmas mode, with a dad (Tom Arnold) who prioritized being Santa for other kids over almost everything else. As an adult, Holly rebels by becoming a workaholic with no time for the holidays except in the sense that she sells even more product than usual. It's been four years since she came home to visit her father for the holidays and he hasn't been willing to step away from his "job" as Santa either. When pops gets into a sleigh accident (trying to impress a lady) and breaks his leg, Holly comes home for a visit to make sure he's ok. Visiting her hometown forces her to slow down and she begins to question the way she's living her life. Not to mention that it looks like her father is in financial trouble and Santaville might not be around much longer…
The best part of this movie is the cute remembrance part where Holly and her dad, Nick, talk about her mom, who has been dead for years. So super-sweet and lovely and the best acting of the whole film.
These fucking Nutcrackers though… You couldn't have found a more attractive "craft" for Peter to make? They look like they're made of cardboard paper towel tubes.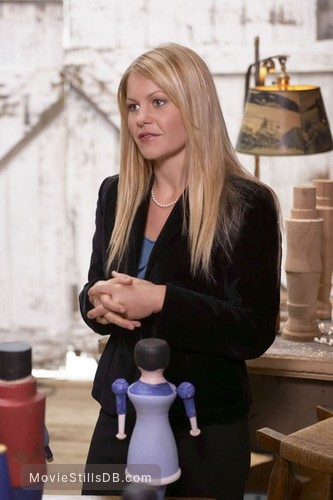 Be glad you can only see them from the back in this photo. Peter might have "a face [you] can look at for the rest of your life," but the guy needs to stop making these hideous nutcrackers. And you know me – I love nutcrackers! I love crafts. I love Christmas. They could've done better with this and I'm going to stop harping on it right now.
Ok, that's enough. You get the gist. Lotsa capitalist bullshit. Money makes the world go 'round. Money saves the day this Christmas.