Title: Kristin's Christmas Past
Year of Release: 2013
Available On: DVD from Amazon
Rating: 4.5 out of 5 Jingle Bells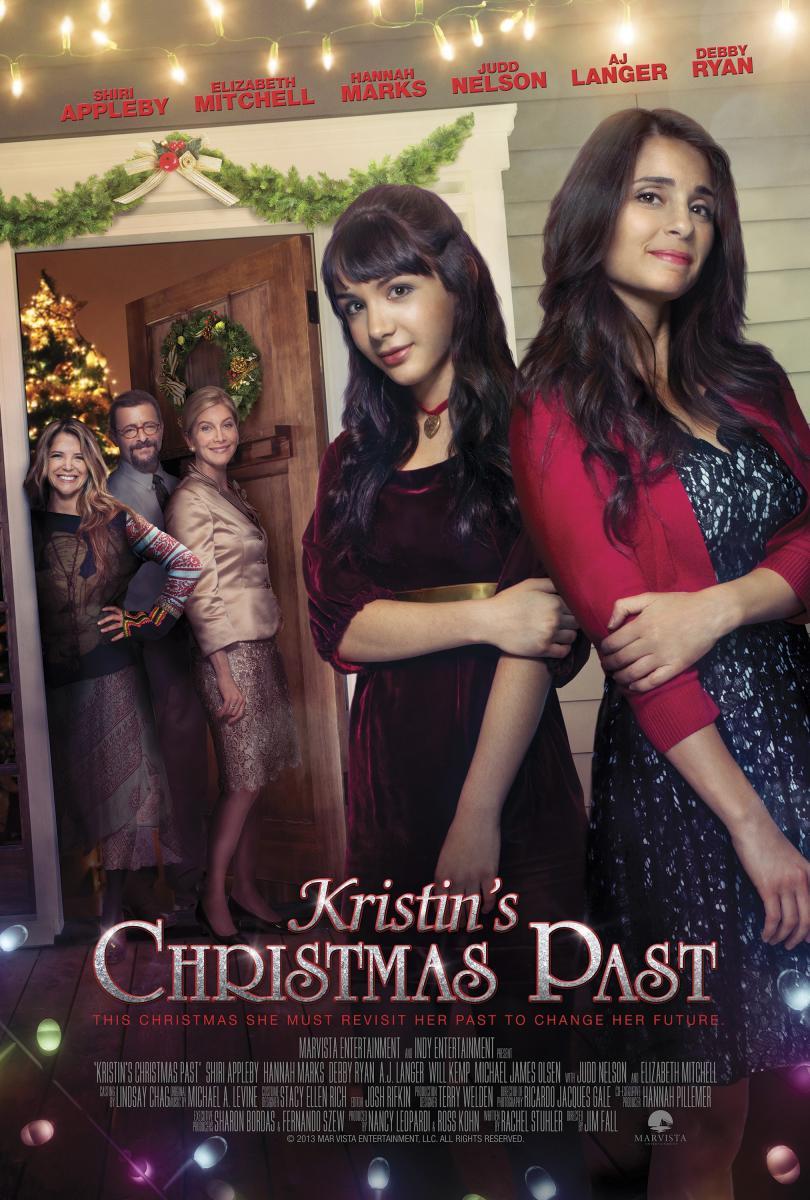 This movie starts out… weirdly. Kristin (Shiri Appleby) is at her company Christmas party in a ridiculous outfit. She's had a recent break-up and she's wasted at a work party, never a great look. Her BFF Jamie (Will Kemp) is trying to be supportive, but she isn't making it easy. Jamie has decided to break their 17-year-long best friend tradition of "anti-Christmas" by going home to see his parents and taking his girlfriend, Sophia (Courtney Henggeler). Kristin doesn't deal well with this news. All goes terribly awry when she wakes up in 1996 next to her own self of that year. She and baby "Krys" – her own younger self – figure out how to introduce her to her own family and Kristin has to determine why she's there and for what purpose.
A.J. Langer is a lovely Aunt Debbie. Elizabeth Mitchell is an excellent uptight mother Barbara. Judd Nelson is the steamrolled but caring dad.
As if there were any doubt, I the Aunt Debbie of life.
In the vein of all good time traveling movies, there's many awkward moments caused by having too much knowledge about where they are in time. If 34-year old me spoke to 17-year old me, there is no fucking way I would ever have listened to her. Not for one iota of a second. And neither does young Krys:
Krys: You had a lot of years to make mistakes, it's my turn now.
Look, there are some giant plot holes. WHY would this family ever accept a total stranger in their midst for the entirety of Christmas? WHY would a family let her meddle in their affairs so thoroughly? I mean, if you can get past that… then the rest of this movie ain't bad. I have always loved Shiri from Roswell. There's a hand bell choir. I like that. There's a lot of typical mother/teen daughter angst — what I don't fully get is why 34-year old Kristen is so forgiving of mom's transgressions. I get that some things don't matter, but there's no excuse for the things that Babs says to her either. Is anyone in this family going to learn any lessons and grow? All told, a medium-to-good updating of A Christmas Carol. Would've been a four jingler, but the good acting and casting got it another half. Would re-watch!