Title: A New York Christmas Wedding
Year of Release: 2020
Available On: Netflix November 2020
Rating: 5 out of 5 Jingle Bells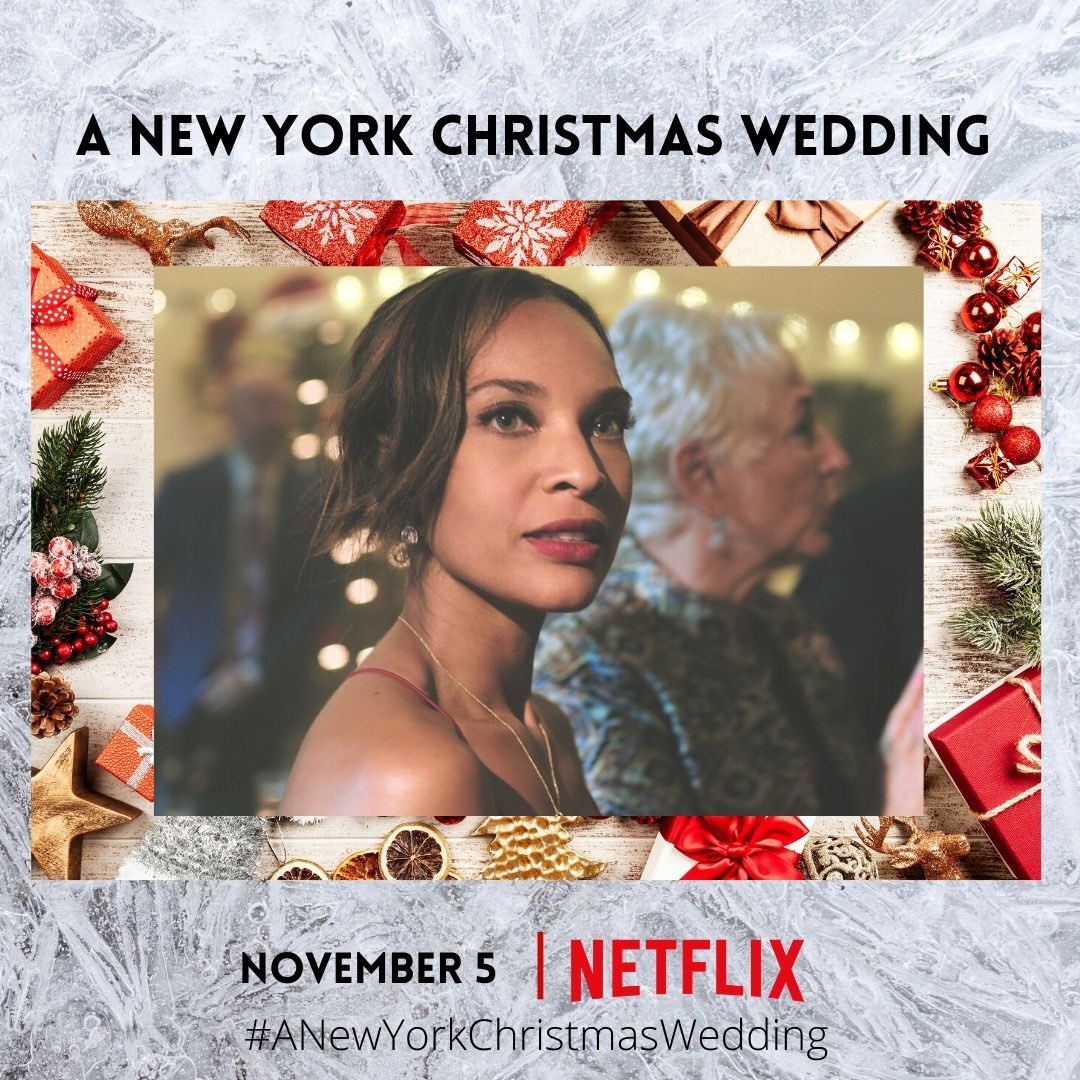 This character has a lot of grief. Why is she working as a vet tech? That's like the saddest job on the planet, so much of what vets do is usher animals to the other side — and thank goodness for them — but come on, my lovely. You need therapy.
She's very cute (Nia Fairweather) and so is her boo (Otoja Abit). They are both adorable. The in-law situation is disturbing, however. Her future mother in law is cruel, biting, and frankly, offensive. She doesn't know when or where to stop pushing — and while I know there are people like this in the world, but damn. I can't blame Jennifer for getting the heck out of dodge.
Azrael (Cooper Koch) is a gay beautiful angel sent to help Jennifer deal with her life situation. All angels should dress beautifully and ride their bikes without touching the handlebars, looking effortless.
You need to look around you. Really look. And you'll see that life is full of moments of happiness and signs of hope, your kindness to me proves that.

–Azrael the Angel
Anyway, I can already tell that Jennifer was in love with her childhood best friend. The telltale signs of being too enmeshed, being upset that the friend was with a male partner — I know them because I lived them, y'all. Not to mention that when she wakes up and her dog is licking her, she thinks it's her boyfriend and tells him to stop! LOL. But as in the age old story, she wakes up in a different world… A world where she was honest with her best friend, Gabrielle (Adriana DeMeo), and they are in love, partnered, and getting married, and living in an old neighborhood.
Azrael continues to be perfect. Jennifer goes to see what the hell is up at her home — and finds another woman there with David, including babies. Oopsy doodle. Jennifer, unlike many of the MEN who are usually in these movies, gets with the picture pretty quickly. Cue me crying a lot when she sees her dad (David Anzuelo) who has been dead for a couple of years in the non-alternate world.
I have been so desperate for an LGBTQ holiday movie and it took until 2020 to get one. Or maybe there has been one, but I haven't seen it. This is it. Thank goddess. The love scene won't make you ache, but it's certainly poignant and so important in terms of representation. It feels good to watch someone who might look like me. The elements of the church are … interesting. I'm not Catholic, so I don't take this crap too personally. And Chris Noth is clearly amazing. I don't even like looking at church, but this feels important. I got the chills. I'm sorry, but it's just the truth.
SPOILERS – I wanna spoil but I'm not gonna. Let's just say it made me cry.
Wait – what – the fucking twist, Batman. That's so goddamn rude. I don't know what to do with this information, to be honest.
Ok, I don't care, I still love it and I'm gonna recommend it heartily.